Latest News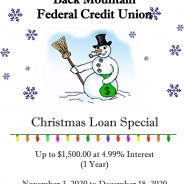 Up to $1,500.00 at 4.99% Interest (1 Year)November 3, 2020 to December 18,...
read more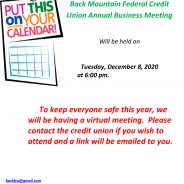 The Meeting will be held on Tuesday, December 8, 2020 at 6:00 pm. To keep everyone safe this year, we will be having a virtual meeting. Please contact the credit union if you wish to attend and a link will be emailed to you. Email: backfcu@gmail.comPhone:...
read more
Christmas Clubs: The 2020-21 Christmas club began the week of September 28th. If you wish to make changes and/or open a Club account, contact the Credit Union office and we will be happy to help you. Christmas Loan: We will be offering our Christmas loan special to members starting November 2nd. Watch for details . Our Home Equity loan and Auto loan specials have been extended through the month of October. Take advantage of these great rates! Auto loans can also be refinanced from another lender. Please call our office...
read more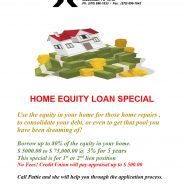 Use the equity in your home for those home repairs , to consolidate your debt, or even to get that pool you have been dreaming of! Borrow up to 80% of the equity in your home.$ 5000.00 to $ 75,000.00 @ 3% for 5 yearsThis special is for 1st or 2nd lien positionNo Fees! Credit Union will pay appraisal up to $ 500.00 Call Pattie and she will help you through the application process. This offer is good through the end of 2020 CLICK HERE TO DOWNLOAD THE...
read more
Loan Amount Up to 80% of equity Range being $5,000.00 to $75,000.00 Rates & Terms 3.75% -4.75% A.P.R. for 60 months or less 4.25% -5.75% A.P.R. for 61 to 120 months 6.4.3-5.25% A.P.R. for 121 to 180 months Rates based on 1st or 2nd lien position Requirements Title insurance on loan of $10,000 and over Current appraisal Insurance with Credit Union as named lien holder Proof of payment of real estate taxes annually Current owner title...
read more
Loan available up to $ 2000 Loan rate is 2% for up to 18 month term No payment for 3 months from date loan is issued Only 1 loan per shareholder($15 processing fee applies) This loan offer extended thru to the end of 2020. Please note our Skip-A-Payment is also still available for your May loan payment if you have not already taken advantage of this for the last 2 months. This offer ends with the May payment. Please call us at 570-696-1633.We are here to help!
read more
Shareholder, On behalf of the Staff and Board of the Back Mountain Federal Credit Union (FCU), we extend our well wishes and hope that you and your family are doing well during these challenging times. As with so many things, this will pass and life will return to normal but we all will need to do our part in order to get to this result. With this in mind, our FCU will be doing the following to support the health initiatives that have been directed to follow as well as offering measures to assist our Shareholders with financial...
read more