Back Mountain Federal Credit Union Annual Business Meeting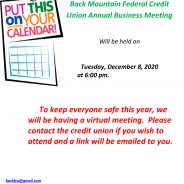 The Meeting will be held on Tuesday, December 8, 2020 at 6:00 pm.
To keep everyone safe this year, we will be having a virtual meeting. Please contact the credit union if you wish to attend and a link will be emailed to you.
Email: backfcu@gmail.com
Phone: 570-696-1633